The Making of 'Urgent': Kelly Hansen's Journey with Foreigner
April 30, 2023 | Blog | 0 comments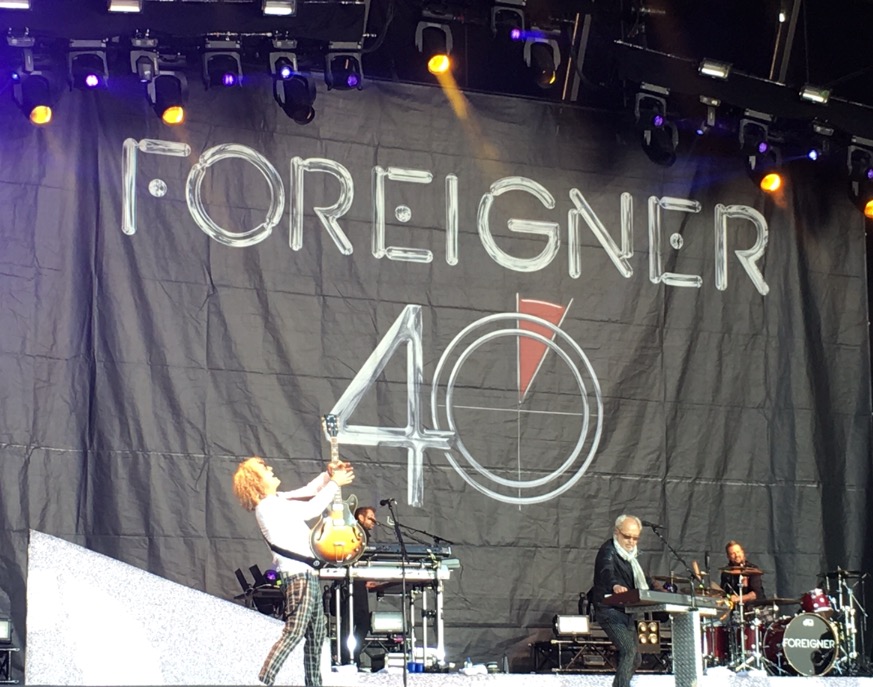 Urgent need for live music
Do you also have an urgent need to see live music like we do? We love to share our experiences from concerts and festivals we've been to. And are you also passionate about music and looking for a community that shares your interests? Look no further than zezamee – the ultimate online destination for music lovers!
In this blog we share a live moment from a concert by Foreigner from Sweden Rock Festival a few years ago.
Foreigner is a legendary rock band that has dominated the music scene for decades with their timeless hits and electrifying live performances. One of the key elements that has contributed to their success is their dynamic frontman, Kelly Hansen. While many fans know Hansen for his powerful vocal range and captivating stage presence, there are some fascinating details about his background and his role in Foreigner that most people may not be aware of.
Kelly Hansen was born on April 18, 1961, in Hawthorne, California. He grew up with a deep passion for music and started singing at a young age. Hansen's first big break came in the early 1980s when he joined the hard rock band Hurricane as their lead vocalist. Hurricane gained popularity in the glam metal scene with hits like "I'm On to You" and "Over the Edge," and Hansen's powerful voice and dynamic stage presence quickly made him a rising star in the rock world.
Hansen's talent as a vocalist did not go unnoticed, and he was soon approached by some legendary rock bands for collaboration. In 1992, he joined forces with guitar virtuoso Yngwie Malmsteen for his "Fire and Ice" album, showcasing his versatility as a singer with his ability to handle both hard rock and melodic ballads. Hansen's impressive vocal range and ability to convey emotion through his singing became his trademark, and he was highly sought after as a frontman.
In 2005, Hansen's life took an unexpected turn when he received an invitation to audition for the iconic rock band Foreigner, known for their string of hits in the late 1970s and 1980s, including "Cold as Ice," "Hot Blooded," and "I Want to Know What Love Is." Foreigner was in search of a new lead vocalist after their original frontman, Lou Gramm, left the band due to health issues.
Hansen auditioned and impressed the band members with his powerful voice and dynamic stage presence, and he was offered the role of Foreigner's new frontman. Hansen's addition to Foreigner brought a fresh energy to the band, and he quickly made his mark as a dynamic and charismatic frontman. His vocal prowess and engaging stage presence helped Foreigner continue their legacy as one of the most successful rock bands of all time. Hansen's ability to connect with audiences through his emotive performances and his unwavering dedication to delivering the best possible show each night has earned him widespread acclaim from fans and critics alike.
While many fans are familiar with Kelly Hansen's role as the lead vocalist of Foreigner, there are some lesser-known facts about his contributions to the band that are worth highlighting. Here are some intriguing details about Hansen's involvement with Foreigner that most people may not know:
Hansen has not only been a dynamic live performer with Foreigner but has also been involved in the creative process of writing and recording new music for the band. Since joining Foreigner, he has co-written and recorded several new songs with the band, including "Too Late," "Can't Slow Down," and "When It Comes to Love." Hansen's songwriting skills have added a fresh dimension to Foreigner's music, while still staying true to the band's signature sound.
As the new frontman of Foreigner, Hansen has taken on the responsibility of keeping the band's legacy alive. He understands the significance of Foreigner's music to fans around the world and is committed to delivering authentic performances that honor the band's iconic sound. Hansen's dedication to preserving Foreigner's musical legacy while also bringing his own unique flair to the stage has earned him praise from both long-time fans and new audiences alike.
Hansen is known for his genuine and approachable nature, both on and off the stage. He takes the time to connect with fans at concerts, meet-and-greets, and through social media, making them feel valued and appreciated. Hansen's down-to-earth personality and warm interactions with fans have created a strong bond between him and the Foreigner fan community, further cementing his role as a beloved frontman.
Under Hansen's leadership, Foreigner has continued to tour extensively, playing to sold-out crowds around the world. He has also been instrumental in expanding the band's global reach by performing in countries where Foreigner had never toured before, such as India, the Philippines, and the United Arab Emirates. Hansen's efforts to bring Foreigner's music to new audiences and introduce the band to fans in different parts of the world have helped solidify their status as one of the most enduring rock bands of all time.
In addition to his musical contributions, Hansen is also known for his philanthropic efforts. He has been involved in various charitable causes over the years, including supporting organizations focused on cancer research, animal welfare, and children's health. Hansen's commitment to giving back to the community and using his platform for positive change is a testament to his character and dedication to making a difference beyond the stage.
URGENT WITH FOREIGNER AT SWEDEN ROCK FESTIVAL
We love the song Urgent which is one of Foreigner's most iconic songs as you can see here from our video from a live performance at Sweden Rock Festival https://www.swedenrock.com/. But do you know the story behind this song? Released in 1981 as part of their album "4," has a fascinating backstory.
The distinctive saxophone riff that opens the song and is featured prominently throughout was actually a last-minute addition to the track. The original recording of "Urgent" did not include the saxophone part, and it was only added during the mixing process. The saxophone solo was played by jazz musician Junior Walker, who happened to be in the same recording studio where
Foreigner was working on the album. According to the band's founder and guitarist Mick Jones, he had a chance encounter with Walker, and after hearing him play, he decided to ask him to contribute to "Urgent." Walker's soulful saxophone solo became one of the most memorable elements of the song, elevating it to new heights and making it a standout hit.
The lyrics of "Urgent" are also noteworthy, as they explore themes of desire, passion, and longing. The urgent plea in the lyrics, combined with Hansen's powerful vocals, creates an emotive and captivating performance that has resonated with fans for decades. The song's infectious melody, catchy hooks, and dynamic instrumentation have made it a timeless classic that continues to be a fan favorite at Foreigner's live shows.
Kelly Hansen's role as the dynamic frontman of Foreigner has been instrumental in keeping the band's legacy alive and continuing to captivate audiences around the world. His impressive vocal range, engaging stage presence, and dedication to delivering authentic performances have earned him widespread acclaim from fans and critics alike. Beyond his musical contributions, Hansen's philanthropic efforts and genuine connection with fans have further endeared him to the Foreigner community.
One of the key elements that sets "Urgent" apart from other Foreigner hits is the saxophone solo, which was performed by the late Junior Walker, a well-respected saxophonist who had previously collaborated with artists like Marvin Gaye and Stevie Wonder. Walker's involvement in the song was actually a last-minute decision by producer Mick Jones. Originally, Jones had planned to use a guitar solo in the bridge, but he felt that the song needed something more distinctive to make it stand out. After hearing a Junior Walker song on the radio, Jones was struck by the idea to bring Walker in to play saxophone on "Urgent".
In addition to the memorable sax solo, "Urgent" also has a unique sound that blends rock and new wave elements. This was intentional on the part of Mick Jones, who was inspired by bands like The Police and Blondie, and wanted to infuse Foreigner's sound with a more contemporary edge. According to Jones, the song was influenced by the energy and excitement of the early 80s music scene, and he wanted to capture that feeling in "Urgent".
Another interesting aspect of the song is its lyrics, which were written by Mick Jones and vocalist Lou Gramm. The lyrics describe the urgent desire to be with someone, even in the face of danger and uncertainty. While the song's lyrics may seem straightforward, there are actually several layers of meaning at play. In addition to the literal interpretation of a passionate romance, the lyrics could also be interpreted as a metaphor for the band's own urgent desire for success and recognition.
Despite its unconventional sound and lyrics, "Urgent" was a massive success for Foreigner. It peaked at #4 on the US Billboard Hot 100 chart, and helped propel the band's album "4" to multi-platinum status. Today, the song is considered a classic of the 80s rock era, and continues to be a fan favorite at Foreigner concerts around the world. Check out more about Foreigner at their official web https://www.foreigneronline.com/
If you are a fan of music in all genres and love to share your moments with other people around the world, you should join our music community at zezamee.com
Check it out. It is free and inspiring!
Here you can also buy tickets to your next concert all over the world https://www.zezamee.com/ticketmaster-book-tickets
Follow us on Instagram, Facebook, Twitter and on TikTok @zezameemusicworld
Of course you can also listen to our playlists on Spotify https://open.spotify.com/user/3py9y58py12z32tl9qpto1cdu. Or listen to your premium Spotify account on ZezaMee https://www.zezamee.com/community/listen-to-music
See you there at your new world of music!
With love for music!
Team ZezaMee